I'm back from my family vacation in North Carolina and glad to be out of the sun for awhile. In the past week, I managed to make a significant dent in my summer reading list. If I wasn't swimming, surfing, bodyboarding, or building sandcastles, I read the first few chapters of James Moorhead's
Princeton Seminary in American Religion and Culture
and began working again on my publishing history project. For the latter, I mined M. X. Lesser's
Reading Jonathan Edwards
, read the introduction to the final volume of
The Works of Jonathan Edwards: Volume 26: Catalogues of Books
, superbly edited by
Peter J. Thuesen, and read the entirety of David Copeland's
Debating the Issues in Colonial Newspapers
and Lawrence Wroth's classic book,
The Colonial Printer
. In the evenings, my family and I enjoyed having access to cable television. We watched episodes of "
Duck Dynasty
," "
Treehouse Masters
," and "
The Call of the Wildman
" with "Turtleman."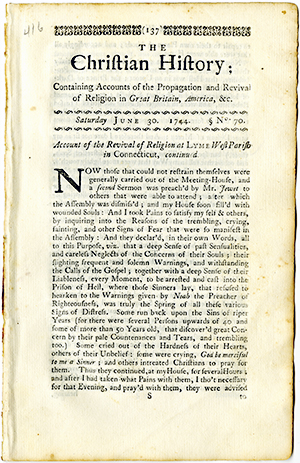 All this reading on colonial newspapers inspired me to purchase copies of two editions of
Thomas Prince's The Christian History
, published between the years 1743 and 1745. Prince and his son sought to use their magazine to promote the revivals that were taking place on both sides of the Atlantic in the early 1740s. I was pleased to be able to buy editions of
The Christian History
that featured excerpts from James Robe's account of revivals that had taken place in Kilsyth, Scotland in 1742.
If you are interested in purchasing copies of early newspapers, take a look at
Timothy Hughes website
.