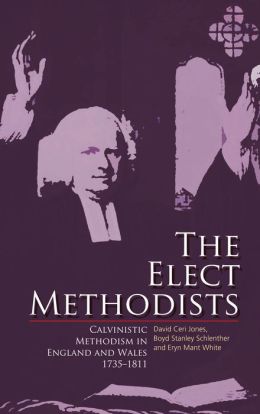 I continue to plow through my summer reading list. Today, I finished
The Elect Methodists: Calvinistic Methodism in England and Wales, 1735-1811
by
David Ceri Jones
, Boyd Stanley Schlenther, and
Eryn Mant White
.
I put off buying this monograph because the price was so high ($80 hardback), but I'm glad that I finally gave in and purchased it.
The Elect Methodists
provides an extremely thorough introduction of the key Calvinistic Methodists in the 18th and early 19th centuries. I found myself constantly flipping to the endnotes in each chapter to jot down the primary and secondary sources for further study. I thought that I had a grasp for the basic narrative of Welsh Methodism from reading monographs like Jones's
Glorious Work in the World
and Geraint Tudur's
Howell Harris
.
But after reading
The Elect Methodists
, I realize that there are a host of additional articles and books that I should consult.
The Elect Methodists
is a wonderfully readable introduction on early Calvinistic Methodism. As the authors rightly point out in the introduction, too much attention has gone to Wesleyan Methodism, which has been viewed by many people as the only brand of Methodism. Jones, Schlenther, and White show with convincing depth, that Calvinistic Methodism was a vibrant strand of evangelicalism, that was at times tightly organized, and had significant strongholds in England and Wales.
Within their narrative, the authors also chronicle the involvement of Calvinistic Methodist's most colorful characters, including Howell Davis, Howell Harris, Daniel Rowland, George Whitefield, William Williams, and Selena, Countess of Huntingdon. After reading the fascinating chapters on the Countess of Huntingdon, I am now considering coughing up the money to buy one of the monographs on "The Queen of the Methodists" by
Alan Harding
,
Boyd Schlenther
, or
Edwin Welch
that I have in the past talked myself out of because of the high price.
If you don't have the money to purchase
The Elect Methodists
, you should at least take a look at the book through inter-library loan or convince your local university library to buy a copy. It is well-told narrative that is packed with useful information. For scholars of early evangelicalism, it is essential reading.